How to Download Offline SAP Sizing Questionnaire
---
Many times it happens that we as the SAP BASIS team need to collect inputs from functional or business teams for through-put sizing and it's not practical to get all at the same time to collect data. Hence only option is to share the questionnaire with them to get data as per their availability. But creating a questionnaire manually is time-consuming activity as there are multiple Sub-Products or Modules and multiples option in each one of them. So is there any standard way to get this sorted out, let's see it in this post i.e. How to download Offline SAP Sizing Questionnaire.
SAP Quick-Sizer
Sizing is a process that translates business requirements into hardware requirements in an iterative process. Thus after the sizing exercise, we will get hardware details in terms of CPU, memory Disk, etc.
Quick Sizer is an online tool made available by SAP since 1996 & is free of charge. You just need to fill in the required data for User-based or through-put-based calculations and it will give you approx. hardware sizing for the selected SAP application or Product.
Sizing Models in Quick Sizer are as follows.
User-based Sizing
Users

Low, Medium, and High Activity
Application Components
Assumptions for the load on CPU and disk

Result

Average CPU
Disk Size
Disk I/O
Memory
Throughput-based Sizing
Business Throughput, Considers time period

Residence Time
Average Working Day
Peak load time frame

Result

Average and Peak CPU
Disk Size and Growth
Disk I/O
Memory
Offline Sizing Questionnaire
As mentioned earlier, we may not be always able to use Online Quick Sizer directly, we need to collect inputs from functional and business teams for the same. Hence for that purpose, we can use an offline sizing questionnaire. You can download the same from quick sizer only. Just open Quick Sizer from the Official Sizing page. You will get three options there as follows, select as per your need.

Also Read

SAP Data Services Web-Dispatcher Configuration
Once you open the Quick Sizer tool, in the left-hand side panel, you can see the option to download the Offline Sizing Questionnaire. Please note that you will need an S-User login to access SAP Quick Sizer.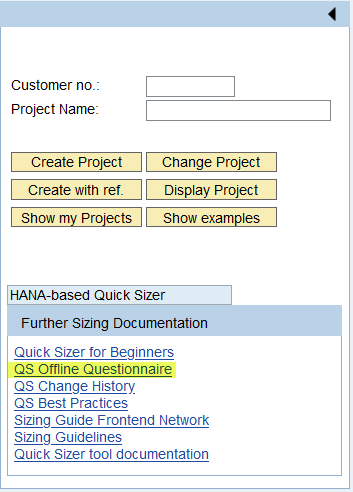 In the same window, you can get Sizing documentation as well. So now you know how to download Offline Sizing Questionnaire. Do let us know in the comment section below if you find this information helpful.
---